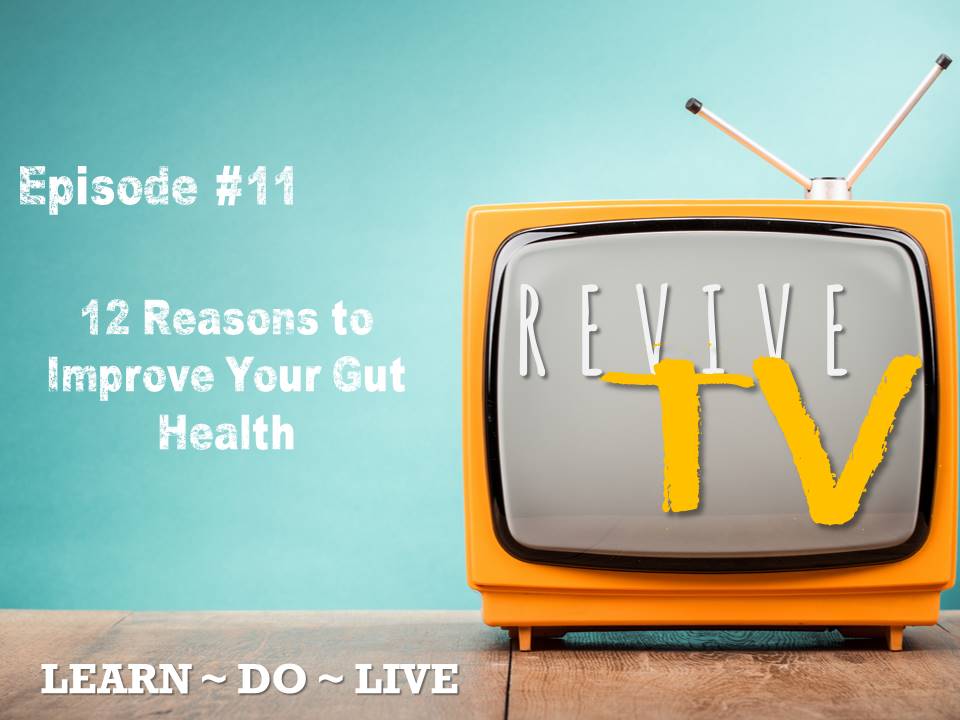 REVIVE TV EPISODE #12
Gut health is a term increasingly used in the health and wellness space and by the food industry. With so much focus on this we decided the share 12 reasons to improve gut health.
Gut health covers more than one aspect of the gastrointestinal (GI) tract, such as
• the effective digestion and absorption of food,
• the absence of GI illness,
• normal and stable intestinal microbiota,
• effective immune status and a state of well-being.
Scientifically, however, it is still extremely unclear exactly what gut health is, how it can be defined and how it can be measured.
It appears however that the GI barrier adjacent to the GI microbiota is key to understanding the complex machinations that maintain gut health. The microbiota includes bacteria, viruses, fungi etc.
Any impairment of the GI barrier can increase the risk of developing infectious, inflammatory and functional GI diseases. Impairment can also contribute to extraintestinal diseases such as immune-mediated and metabolic disorders.
What has caused a perceived increase in gut–related health issues?

Today on Revive TV you will learn:
The major 'contributor' to all gut-related health issues.
What change from the second world war has increased so dramatically that it is effecting our health.
Why our gut health can effect our brain/mental health.
Plus the 12 reasons to improve gut health.
Join us every Thursday for Revive TV, our weekly health show where I share the best information, tips and strategies I have found the will help take your health to new levels. Struggling with a current health challenge or looking to maximise your life, we have got you covered!
Do you have a question or topic you'd like answered on another show? Please contact us via our Facebook Page https://www.facebook.com/revivechiro/ or email at info@revivechiropractic.com.au and we'll do our best to find you the answer.