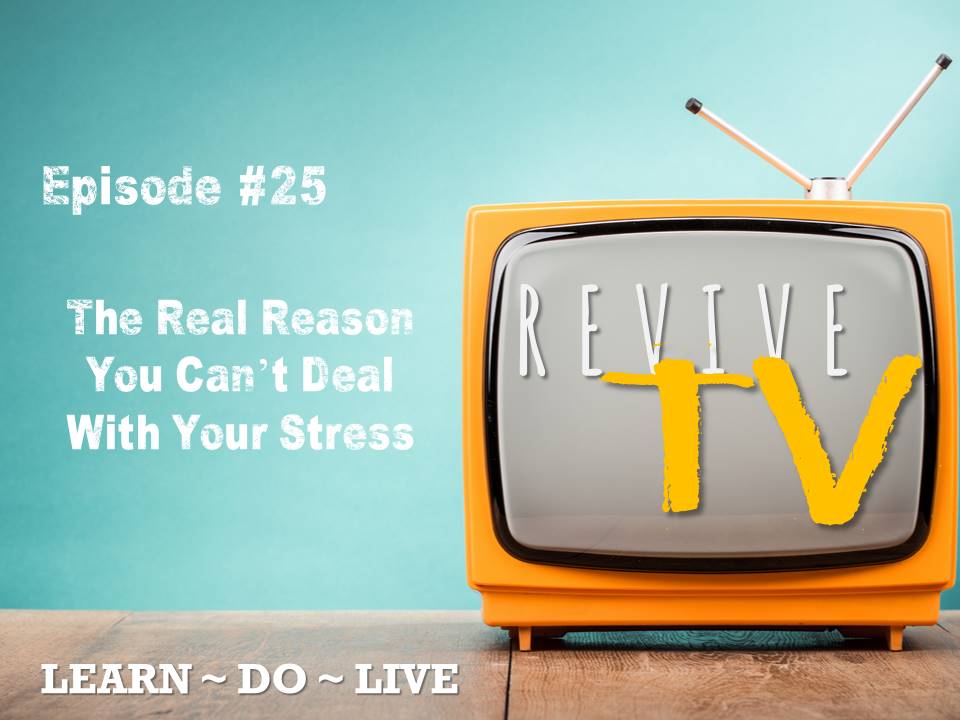 REVIVE TV EPISODE #25
Does this sound familiar? "I know I've got to deal my stress but I just don't have time right now, I've got too much on. I'll get to it later." When does later come? Never, or when it's too late. In my experience there are a multiple reasons we give for not addressing our stress. Before I give you 'The Real reason you can't deal with Stress', lets look at some the main excuses I hear:
Lack of Time – I call bull on you, it's not time. If time is holding you back I'm afraid that neither you nor I can make any more of it. We all have exactly 168 hours in our week, get over it. What happens when an emergency happens, do you find the time to attend to it? You sure do, nothing is more important. So it's definitely not time.
Lack of Money – I call bull on you again, it's not money. Is there something you could do right now, that would improve your health, that would require no extra expert advice, require no money to actually implement, but still you don't do it? I know the answer is yes, because I've tested it, 100% of people, 100% of the time could do something to improve their health right now, for no cost, but don't. Why? Keep reading.

Knowledge Gap – This can be a real reason, it's why we run workshops in our practice and are continually educating our practice members – see Inspired Thinking. Use caution when using 'Dr Google' for all health advice however, there is plenty of good info on the internet. Knowledge gap can be problem, but not the main one.
There are more, but these are the main ones.
So, if these are not the main issues, what are? On today's episode of Revive TV you will learn?
• The healthy habit your avoiding that could literally save your health?
• The 'negative' physiological side effects your chronic stress is having on you.
• The KEY element to making this strategy work for.
• What I personally use and how I maintain this positive effect.
Join us every Thursday for Revive TV, our weekly health show where I share the best information, tips and strategies I have found the will help take your health to new levels. Whether you are struggling with a current health challenge or you are looking to maximise your life we have got you covered!Do you have a question or topic you'd like answered on another show? Please contact us via our Facebook Page https://www.facebook.com/revivechiro/ or email at info@revivechiropractic.com.au and we'll do our best to find you the answer.