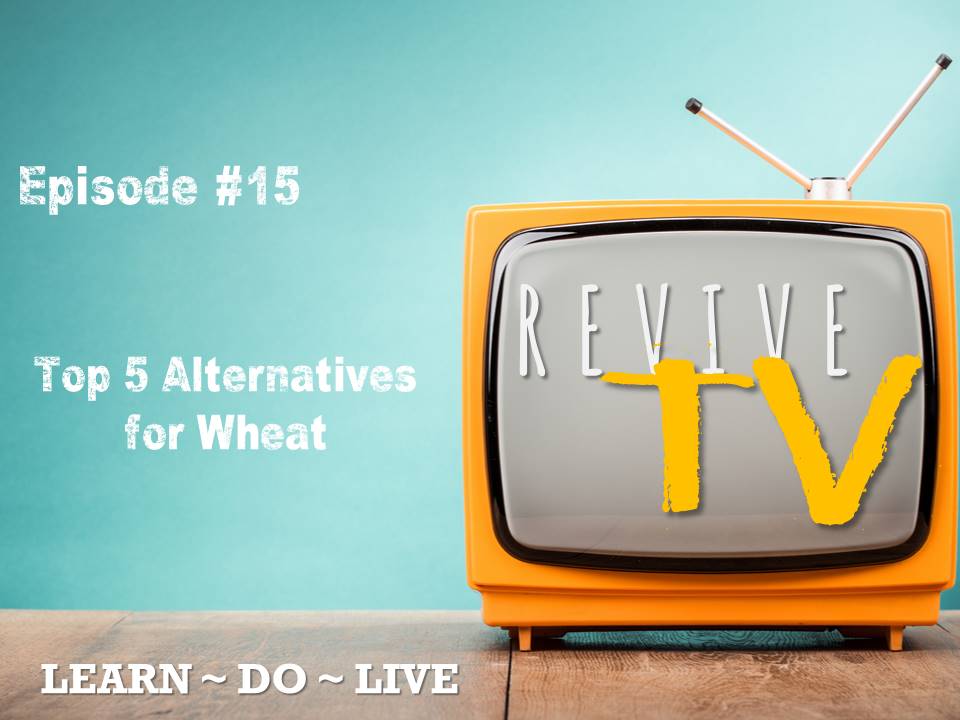 REVIVE TV EPISODE #15
Wheat gets a bad rap and from my experiences rightly so. Wheat is a non-essential food that has been linked to many health challenges. These effects can be subtle but immediate like feeling bloated, gassy, tired and flat. In addition, it can lead to much more serious illnesses like diabetes and heart disease. So, are there alternatives for wheat.
Last week we discussed why wheat is bad for you. We referenced Dr William Davis, MD and cardiologist who wrote the best seller 'Wheat belly'. Dr Davis references his personal experience is treating patients by removing wheat from their diets. Then discusses scientifically what happens when we eat wheat.
"Aside from some extra fiber, eating two slices of whole wheat bread is really little different, and often worse, than drinking a can of sugar-sweetened soda or eating a sugary candy bar."
– Dr William Davis, Wheat Belly: Lose the Wheat, Lose the Weight, and Find Your Path Back To Health

So while removing wheat from our diets might be a good thing it is also hard because so many things contain wheat. Are there alternatives that we can use that we may substitute to broaden our eating experience and remain optimally health?
In today's episode of Revive TV you will learn:
• The 5 best alternatives to wheat and where to get them.
• How to use them and still make delicious food.
• Why these are good for you to consume.
• Best places to find these alternatives
Join us every Thursday for Revive TV, our weekly health show where I share the best information, tips and strategies I have found the will help take your health to new levels. Struggling with a current health challenge or looking to maximise your life, we have got you covered!
Do you have a question or topic you'd like answered on another show? Please contact us via our Facebook Page https://www.facebook.com/revivechiro/ or email at info@revivechiropractic.com.au and we'll do our best to find you the answer.